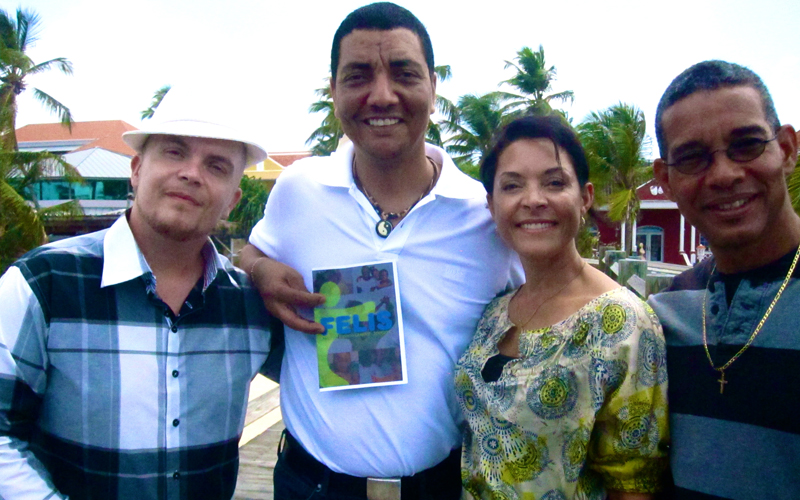 Last weekend the Dutch-Surinamese comedian / TV personality Jorgen Raymann did several shows in the Octagon – Hotel Avila. The yield of the final show went to charity: CliniClowns and Foundation FELIS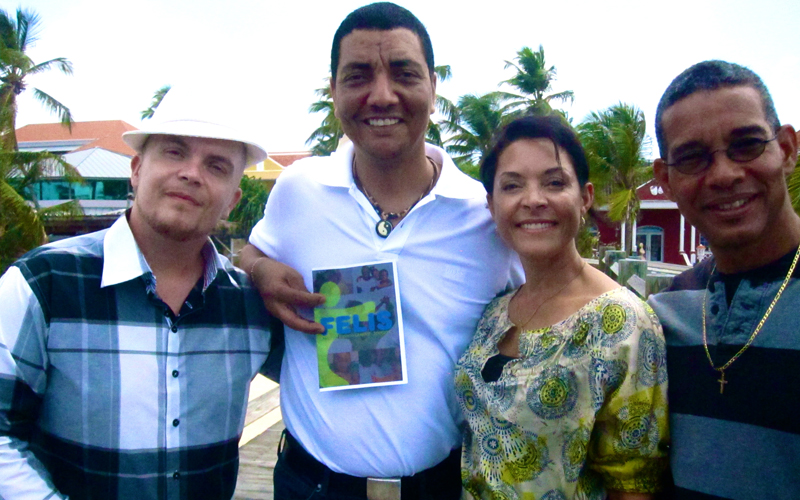 Afgelopen weekend trad de Nederlands-Surinaamse cabaretier/TV-persoonlijkheid Jorgen Raymann een aantal keer op in het Octagon – Hotel Avila. De opbrengst van de laatste show ging naar het goede doel: Clini Clowns en Stichting F.E.L.I.S.Jorgen Raymann: "Both foundations do a very good job, it speaks to me especially that it is aimed at children. I feel honored to be able to contribute to these foundations this way. I love Curacao. "At the end of his last performance Raymann played the famous song "Atardi" because he says he" fell in love with Curacao".
Gerda Petersen is the initiator an owner of Foundation FELIS.
Chairman is Mr. John Leito and Mr. drs G.J.H. Mulder (better known as Brainpower) is it's Ambassador
On the picture from left to right: Brainpower, Jorgen Raymann, Gerda Petersen and John Leito ..
Jorgen Raymann:' Er wordt zeer goed werk verricht door beide stichtingen, het spreekt me vooral aan dat het gericht is op kinderen. Ik vind het fijn en een eer om op deze wijze iets te kunnen bijdragen. Ik draag Curacao een warm hart toe'. Aan het einde van zijn laatste optreden heeft Raymann het alombekende lied 'Atardi' vertolkt omdat hij naar eigen zeggen 'verliefd is geworden op Curacao'.
Inititatiefneemster en eigenaresse is Gerda van Petersen
Voorzitter is Dhr. John Leito en Dhr. drs G.J.H. Mulder (beter bekend als Brainpower) is ambassadeur
Op de foto vlnr: Brainpower, Jorgen Raymann, Gerda van Petersen en John Leito..