Project "Think Big, Act Green
Erasmus+ Project "Think Big, Act Green" aims at providing capacity building to the 33 female and male participants from Curacao, Cyprus, Tenerife, and Madeira (aged 16-26) that they act socially and environmentally responsible citizens. Accordingly to achieve it, following objectives has been developed by participating youth: learn from each-other about climate change, sustainable consumption and lifestyles; share practical tools, which will positively engage, inform and enable behavioral and attitudinal changes among us and our peers, family members, friends back to communities; and, lastly to help each-other to understand different cultures and promote interactions, networks and partnership between island youth.
The methodology which will be utilized during the youth exchange includes a combination of non-formal learning methods such as icebreakers & energizers, interactive workshops, teambuilding activities, inter-cultural events, hands-on experiences, informal leisure and evaluation, and reflective sessions. Through which, the participating youth will be able to share their experiences, learn to live together and adopt an eco-citizen behavior. Participation in the project will encourage them to lead a healthier and more ethical lifestyle, whilst becoming active citizens rather than passive consumers.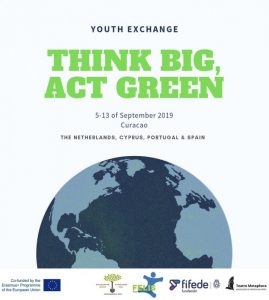 This project will be carried out by project participants with the support of group leaders from four partner organizations: Stichting F.E.L.I.S. Curacao (Curacao), Agros Environmental Group (Cyprus), Teatro Metaphora – Associação de Amigos das Artes (Madeira Island – Portugal) and Fundación Canaria Insular para la Formación, el Empleo y el Desarrollo Empresarial (Canary Islands-Spain) by working together in multicultural, multi-island, multi-ethnic environment. The whole project will be based on non-formal and informal methods and will be run by participating youth itself (such as working in teams, role plays, handicraft, and etc.). In total 33 participants will be taking part in youth exchange, among which 5 will be group leaders, while the rest of the participants will represent 16-26 aged group from 4 islands.
The activities of the project are dynamic, active and designed in a way that will develop participants' intercultural competencies together with raising awareness about climate change and environment, environmentally friendly lifestyle, youth activism and so on. For the sustainability of the project, they will also gain campaign planning skills, which will help them to bring desirable impact to local communities. Additionally, writing project, planning activities, later implementing and following it up, communicating peers from different part of the world and etc. will empower participating youth. More precisely, participants will leave project self-empowered and with increased self-esteem, they will develop foreign language competences and intercultural awareness and most importantly, participating youth will also go back with better awareness of the Erasmus + Programme and such opportunities like EVS, solidarity corps, training courses and etc.
At the European and international levels, this project sets a good example of how young people can act as a positive change maker. By spreading project outputs such as photo campaign, video broadcast, and report, we expect raised awareness of more people on climate change as a challenge which needs to be solved with the joint effort of individuals and institutions. Involved organizations will also benefit from the project through sharing best practice experience in various field, plan new cooperation, exchange information about future activities, etc